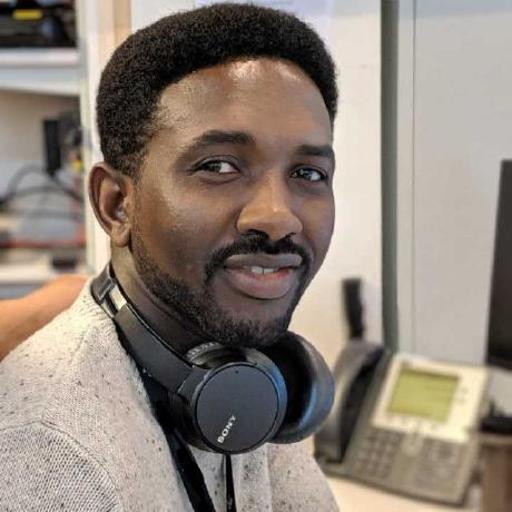 This is Mohammed
Mohammed came to the UK as a refugee from Sudan in 2015. Like others in a similar position, he tried to integrate himself quickly in his new community in the hope of making up for the challenges and disruptions he had faced in the past.
'First, I was doing ESOL in college, then working at a car wash… I also worked at a warehouse before getting a job in a customer service role with a local company – I actually did most of these at the same time!'
Despite how busy he was forging a new life in Scotland, and despite having little academic grounding in the discipline at first, Mohammed still found the time to develop a passion for coding.
'My friend was trying to make a website for his business and I decided to try and help him as it interested me. I then began doing online tutorials and some more research… I am a creative person, I like to create things – I think this is why I wanted to be a developer.'
Then, one day, a volunteer visited his part-time college ESOL course, looking to recruit students for the first ever CodeYourFuture class in Scotland.
When we accepted him on to the course, Mohammed found out that being a CodeYourFuture student was very different from being a student at college. In their efforts to get people ready to step into a job as a junior software developer, volunteer mentors at CYF were keen to instil confidence in the students and create a supportive, productive and proactive learning and working environment.
'It was different from college. Help was easy to find and people didn't feel nervous about asking for it when it was needed… We were a community, we did social things together and this was very helpful as this is important for learning, in general. The mentors supported students and students supported each other.'
One of the obvious benefits provided by the course was the teaching around relevant and new web technologies, but just as valuable, too, was the development of communication, confidence, networking and general problem-solving skills. For Mohammed, these were crucial in the hunt for his first job in tech.
'I thought it was not going to be easy to find my first job in tech… and I was right! This is what it is like for most people. However, I had great support from the CodeYourFuture community. I got to work remotely on a project in London through networks at CYF. I also got to work on a program that was going to be used by British Red Cross and Refugee Council in London. This work was really important for me eventually getting a job. I think I did around 7 interviews around different cities in the UK, but now I was sure I'd get one.'
Mohammed is now looking to develop professionally further whilst remaining close with the community at CodeYourFuture:
'My last plan was to become a professional software developer, now I want to build my skills and experience further. I have just moved to a new job with more creative opportunities and lots of different projects to work on. In the future, I want to be employed as a senior developer, possibly work freelance or build my own company.
I never stopped being part of CodeYourFuture when I graduated or when I got a job. I like coding, I like helping people and I feel happy supporting students. I will never stop coming back.'
To Mohammed, CodeYourFuture forms a big part of where he calls home.
'I actually thought about moving from Scotland at one point in the past – mainly because of the weather! But, honestly, CodeYourFuture convinced me to settle here in Scotland. Here I've found great opportunities and great people.'
If you are learning to code, you can get tips and follow Mo's journey on his YouTube channel.
Are you ready to start your coding journey?
Find out more about becoming a student at CodeYourFuture.